NEW - Full child safety solution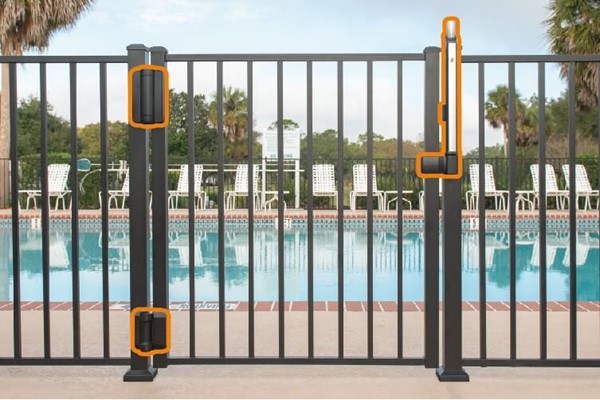 Wednesday, May 10, 2023
Any form of perimeter protection is irrelevant if the gate is left open. That's why safety codes often require the addition of a self-closing mechanism. To this end, the new CARACAL, a 180° gate closer is part of a full pool and child-safety solution.
CARACAL guarantees that the gate is always closed and the FORTIMA assures that children will not be able to open it without supervision.
The first part of this solution is to make sure the gate is always closed. The CARACAL is an 180° gate closer with adjustable closing speed and smooth damping.
Its fiberglass reinforced polyamide housing protects the high-tech internal components, while its vertical and horizontal adjustability makes it easy to install. The CARACAL closes the gate every time.
The CARACAL comes with its own partnering spring hinge, for the bottom side of the gate. It's a single SERVAL with force adjustability. Install the NOSTEP anti-climbing device on top of the spring hinge to eliminate the possibility of people using the hinge as a step to climb over the gate.
Once the CARACAL and SERVAL have made sure the gate is closed, it is up to the FORTIMA to keep it that way. This magnetic child-safe latch can be installed on the inside to keep children from leaving the property or on the outside to prevent them from entering areas where they shouldn't be.
Installed at least 54" above ground, the latch is designed to be completely out of reach for children under the age of 5. It has a push-down prevention feature and a 20 N resistance force. That means that it can only be opened after a double pull up, providing an additional layer of security.

Discover how to turn turn child-safety into child's play.