BETTER QUALITY, BETTER PRICE & 5 REASONS WHY YOU NEED TO GIVE IT A GO!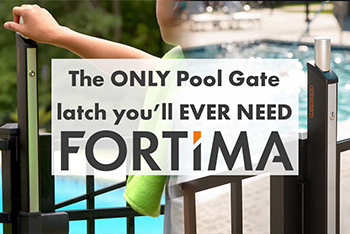 Monday, October 11, 2021
Great News! We're decreasing the price by 20% effective immediately*
The FortiMa pool gate latch debuted this past spring to positive reviews by all who tried it! Thanks to the success of this product, we are excited to announce a price decrease.
The FortiMa made waves in 2021 and for those who got their hands on it, and it's easy to see why! With these 5 reasons, you'll see what the rave is about!
(*) price decrease is only appliccable on standard pricing; not on extended promotional or volume pricing.
1. EASY INSTALLATION ⚒️
This video shows just how quick - and simple - it is to install a FortiMa pool gate latch onto your pool (or park) gate!
View video here.
2. MAGNET STRENGTH
The magnet is not only DOUBLE the size of all other pool gate magnets, but it boasts MORE strength as well!
View the comparison data
3. BUILT TO LAST
If you want a reliable option that is virtually indestructable from any environment, you'll need the toughest, strongest option on the market. No other pool gate latch can outlast the FortiMa!
find out more
4. BUILT TO LOOK GOOD ✨
A lot of work and planning goes into fence projects. We aim to match those efforts with sturdy and goodlooking hardware! Aside from functionality, the sleek design makes it a decorative piece to any pool or park.
5. DON'T TAKE OUR WORD FOR IT
Our customers are very excited to have a new product in their pool hardware offering! Don't believe it? Contact us to try it out and get free shipping. Once you have it in your hands, you'll know ...
READY TO GIVE FORTIMA A TRY?