Locinox 4.0: visionary family business from Waregem builds 'Smart Factory of the Future'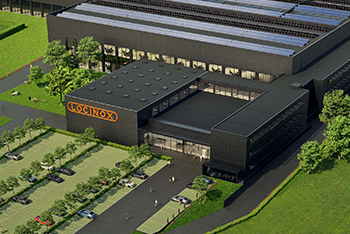 Friday, September 10, 2021
In the presence of Hilde Crevits, Flemish Minister for Economy, Innovation, Work, Social Economy and Agriculture, Joseph Talpe, founder of Locinox, and CEO Mik Emmerechts, Locinox laid the first stone of a brand new site in the Waregem-South industrial zone on 10 September. The 'Smart Factory of the Future' will be named Locinox 4.0 and will come into operation at the end of 2022. With these future plans, Locinox confirms and strengthens its position as European market leader in innovative outdoor access control solutions for the gate and fence industry.
At the end of 2022 Locinox will move from Mannebeekstraat 21 a few hundred metres away to the corner of Brabantstraat and Industrielaan in the Waregem-South industrial zone. The family business, founded in 1988, is exchanging the site where it has been located since 2001 for a Smart Factory of the Future. Locinox 4.0 will be an innovation hub with a state-of-the-art research and development (R&D) department and a nearly zero energy (NZE) production site, which will coordinate and digitise all production processes.
"Locinox is a very determined company and an inspiration for many Flemish growth businesses. The company started as a small family business and then, year after year, thanks to constant innovation and digitisation, increased the quality, production and export of hinges and locks for gates and became the global market leader in its niche," said Flemish Minister Hilde Crevits. "In addition, the company has strong local roots and is well embedded in the community. But a successful transformation within a company also depends on the expertise and commitment of employees. When employees are able to work in harmony with the new technologies, real added value is created. Locinox inspires in that area too."

Creative and innovative hotspot
The planned 40,000 m² of operation on a total land surface of 7 hectares (70,000 m² or 17.3 acres) represents a tripling of current capacity, due to the explosive growth in recent years. Locinox 4.0 will be a true creative and innovative hotspot where automation, connectivity and high-tech integrate seamlessly into the production process.
The investment for the first phase of the construction project amounts to €30 million, with €1.25 million euros of Flemish government support.
In terms of construction, this smart factory takes account of sustainability, ecology and the well-being of over 130 employees. Pleasant and ergonomic workstations, a showroom, an experience centre, relaxation areas, a spacious green patio, roof terrace and more than 1.5 hectares (15,000 m² or 3.7 acres) of greenery with a picnic meadow all contribute to this vision. Already now, tall trees have been planted, one for each employee. In total, there will be more than 250 new treeson the site.
Inspiring workplace
Locinox will welcome its customers and show them around in a state-of-the-art factory environment with a spacious showroom. Employees will also benefit from new, inspiring work studios/office spaces and additional facilities. After all, it has to be fun to meet here - even outside working hours - to play sports or hold family business parties. "We have relatively low staff turnover at Locinox," says CEO Mik Emmerechts.
"This has been the best touchstone for us for years. If people stay, it means they are happy here. Many of our employees live in the area and rarely, if ever, suffer from traffic jams, which of course contributes to a good work-life balance. In addition to 130 colleagues, 94 of whom are in Waregem, another 50 will soon be joining us at our 4.0 site. For them, too, the road to further personal and professional development is wide open."
Open look at the 4.0 future
"As an innovative pioneer and world leader in our sector, we are growing at a tremendous rate. The strong growth in sales demanded a substantial expansion in capacity," explains founder Joseph Talpe, who incidentally is still active in the Research & Development department. "With the Strategic Transformation Support (STS) from the Flemish government, we are fulfilling all our ambitions, efforts, successes and export plans in our ambitious project Smart Factory of the Future - Locinox 4.0." That 4.0 then stands for a unique, creative, sustainable and innovative hotspot. Industrial manufacturing techniques guarantee seamless integration of automation, the Internet and advanced data processing technology. Indeed, due to its steep growth combined with its 24-hour delivery service, Locinox must always be able to produce a sufficient stock of its customised products. By 2020 Locinox was already shipping 97% of orders within 24 hours. "Thanks to a new, fully automated warehouse that also consumes less energy, we continue to strive for 100%," says Joseph Talpe.
Sustainable and ecological
The transformation into a 'Smart Factory of the Future' also implies future-oriented building techniques with a minimum CO2 footprint, rational and optimal use of space, sustainable and fair materials. The industrial construction methods allow spaces to be constantly adaptable. Finally, rainwater is recovered and then fully infiltrated. Thanks to water-saving basins, water is stored and infiltrated during heavy rainfall.

In accordance with the 'Trias Energetica of Reduced Energy Demand' , Locinox uses new techniques to drastically reduce energy demand: building as compactly as possible, adequate insulation and good external joinery. Excessive sunlight is prevented by limiting the surface of the glass on the south side and by fixed external blinds. Sustainable renewable energy sources, such as solar panels and heat pumps, are linked to a BTES field(borehole thermal energy storage) and ensure that most of the energy comes from green sources. In this way Locinox supplies 40% of its electricity consumption itself.
Exceptional export year
During the first half of 2021 Locinox continued the line of the exceptional export year 2020. In addition to the B2B decrease in the industrial and SME market, there was also an increase in demand from the B2C market. Partly because of the lockdowns, the restricted freedom of movement and compulsory teleworking, many people decided to invest in the security of their homes and gardens. Locinox meets these needs with quality access control solutions for reliable perimeter protection.
Company info in a nutshell
Locinox, based in Waregem, is European market leader in a specific niche in which it innovates continuously. It develops and produces (electro-)mechanical and access control products for the gate and fencing industry. The family business was founded in 1988 by Joseph Talpe and now also employs the second generation. Innovation continues to drive growth and export success, contributing to steady and organic double-digit growth over the past two decades. The export sharealready accounts for 90 per cent of turnover.

Locinox has been nominated for the prestigious Lion of Export 2021 award, an initiative of Flanders Investment & Trade. The products are exported to more than 60 countries, with France, Germany, the Netherlands and the United Kingdom as the main markets. In addition to a local sales hub in Chicago (USA), the family-run company also opened a branch in Wroclaw, Poland, in May 2021 in order to better serve the CEE market and Russia. Thanks to the efforts of 150 employees, Locinox is heading for a turnover of approximately €50 million in 2021.
Location: at the
corner of Brabantstraat and Industrielaan, Waregem-South industrial zone
Buildings in operation: end of 2022
Planned operating area: 40,000 m²
Total ground area: 70,000 m²
Investment costs: €30 million (first phase)
Contractor: not yet awarded
Architect: Goedefroo + Goedefroo Architects (Ghent & Wielsbeke)
Infrastructure of production units
Spacious assembly workplaces with plenty of light
Large CNC workshop and sawmill
Large warehouse with fixed shelving for more than 18,000 pallet spaces (now 6,600)
Fully automated (miniload) bin warehouse (80,000 bins) that will feed the packaging lines
Pleasant and ergonomic picking workstations
Large quality department with measuring room next to the quarantine area
Large shipping and packing area with additional set sorters and packing lines
12 loading docks and large loading bay area for ready-to-ship goods
Reception, offices, R&D and training
Spacious showroom centrally located at the entrance for receiving customers
Spacious prototype department, separated from the R&D offices only by a glass wall
Test chamber that will also serve as a showroom
Experience centre and premises for the Locinox training academy
Server room and photo studio
Worker welfare
Landscape offices with plenty of light and the necessary soundproofing combined with separate areas for concentration
Vestibule with personal lockers and showers
Airy refectory and relaxation area where everyone can be together
Pleasant outdoor patio and picnic area with benches
Roof terrace for events and monthly meetings
Covered bicycle storage to encourage the use of (electric) bicycles and mopeds/motorcycles as alternative means of transport
Direct connection to the Anzegem-Waregem cycle path through the fields
Ecology
NZEB (nearly zero energy building)
Green car park with electric charging stations for bicycles and cars
More than 15,000 m2 of green space with more than 200 new sustainable trees
Solar panels on larger roof areas (will provide 40% more self-sufficiency than the current 17%)
Complete recovery of rainwater through the creation of very extensive water-saving basins
Economical high-efficiency machines (e.g. ventilation with heat recovery, demand-controlled ventilation based on CO2 content, energy-efficient LED lighting with application of daylight control based on physical presence
Large buffer reservoirs of 7 million litres to buffer and infiltrate water during exceptional rainfall events