Running changes: 4D hinges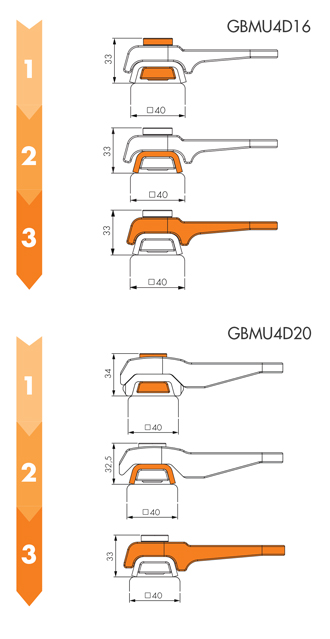 Tuesday, February 23, 2016
"Locinox 4D hinges to undergo a series of changes during 2016"
The products in our range are designed for maximum interchangeability. From this perspective, and to offer you a more precise and secure welding connection between the hinge claw and gate profile, we are improving our 4D hinges. The changes will affect the products .
Over the years these hinges have proven to be the best at carrying the weight of heavy industrial gates. It's 4 dimensional adjustability makes it the preeminent choice for gate installers.
Our GBMU4D16 and GBMU4D20 hinges which consist of several, separately available parts will undergo following changes:
Phase 1: 4D-FIX - claw nut and bolts
In December 2015, we took the first step to further standardise the GBMU4D hinges. In this phase the claw nut was made smaller to obtain 1 universal claw nut size for both hinges. The change does not affect the operation nor the carry weight of the hinge.
Phase 2: KLAUW - gate claw
The second phase will start in June 2016. A new, smaller sized KLAUW will fit both GBMU4D16 and GBMU4D20. The new size ensures a more precise welding connection to 40 mm gate profiles, while dropping the price of the KLAUW20 to the same as the KLAUW16.
Note:
- The current GRIP16 & GRIP20 will fit on the smaller KLAUW, without losing holding force.
- The old 4D-FIX is not compatible with the new, smaller KLAUW size.
Phase 3: GRIP - fixation grip
The last change will take place in December 2016 when we introduce our new GRIP16 and GRIP20 designs. Both are revised to better match and to provide a perfect fit for the new KLAUW.
Benefits after the running changes::
A more precise and secure welding connection

A decrease in sales price of the KLAUW20

Further standardisation of Locinox products